The Release of Pushing Back Entropy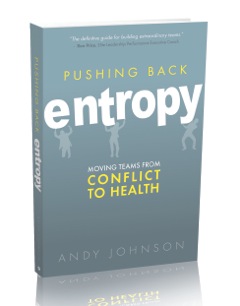 We are pleased to announce the release of Pushing Back Entropy: Moving Teams from Conflict to Health by Andy Johnson, our Executive Coach to Quiet Leaders and Team Health Specialist. Andy has been diligently working to create this handbook for teams that addresses two critical areas of much needed development and focus. As Andy contends in the book, "The field isn't level." It declines away from health and toward conflict and other manifestations of decline according to this universal principle of entropy.
The book is organized in two parts. In part one, Andy examines in detail the nature of team conflict. He addresses critical questions including, "where does conflict come from?" and "how do we work together to prevent it?" As he answers these questions, he builds a detailed model of the development of conflict and a corresponding model for its prevention. Part one concludes with a team checklist to measure our current preparedness as it relates to our potential for future conflict in the team.
In part two, Andy builds directly on the previous model of Ron Price for many years presented as the Disciplines of Extraordinary Teams. Andy builds on and expands Ron's model into his Healthy Teams Model. This five-component model is explained and expounded in the pages that follow. Healthy teams share a foundation of character, build strong bonds of cohesiveness, fight for laser clarity, utilize clear communication and experience positive consequences as a result. Overall team health benefits from an overarching and conceptual model that all of us can see, relate to and understand the way in which our efforts in different areas fit into the bigger picture of team health. Part two concludes with a corresponding checklist that measures our current levels of team health according to this model.
Ron comments in the foreword to the book,
"This is a book to be read slowly, reflectively, and most effectively, as a community. Andy has combined his intellectual acumen with personal experience and deep passion for "what ought to be" to write something fresh, insightful, and loaded with potential. . . Get ready. You are about to go through some stretching exercises."
Pushing Back Entropy is available through Amazon.com and on this site as well. Andy is prepared to offer various types of programs that directly flow from the content of Pushing Back Entropy that would serve your team well. Whether you are looking for a keynote presentation, a workshop or seminar, Andy's curriculum will help your team move toward health.