Dr. Francis Eberle
Leadership & Organizational Advisor
Francis Eberle, PhD, is leadership and organizational advisor, speaker and author. Francis believes that people development is business development. He helps leaders who want to grow in both public and private social enterprises, especially those who want to do something special.
After spending more than 25 years as an executive for non-profits and start-ups, Francis is uniquely positioned to help organizations collaborate and identify opportunity. He has successfully partnered with leaders and teams to improve their skills, solve complex problems, conduct research, grow financial and programmatic resources, and engage partners to work together toward common goals. He offers individual coaching, team development, and analytics for organizational performance improvement. He is also a facilitator and coach for The Complete Leader Program.
Read More
"Will you choose to be part of designing the future of your organization or just reacting to it?"
—Tom Voccola, The Accidental CEO
Francis is the co-author of three books, as well as the author of several policy briefs and the standards readiness tool for state boards, among other publications. He has presented widely on leadership, organizational development, education policy, and reforms in science and engineering education.
Eberle received a Bachelor of Science from Boston University, a Masters from the University of Connecticut, and a PhD from Lesley University. He has also taken Leading and Non-Profit Management courses from Harvard Business School of Executive Management.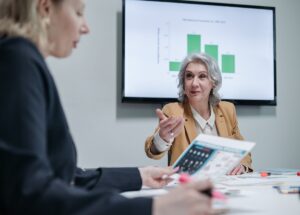 The Benefits of Delegation Done Right
August 3, 2023
Posted in:

Blog, Dr. Francis Eberle
Delegating can be a struggle for many leaders. I see it quite often with the leaders I coach or train. One of my clients is a capable and talented leader who knows her stuff.  She is often sidetracked when a team member comes to her with a challenge they can't seem to solve. As they discuss the problem, she usually figures out a solution. Since she knows how to solve it, she says to the team member, "I will do it, and you can continue to work on the other project."  She repeats this at least once a week with members of her team. She wants her team to be productive and not bogged down with issues. She feels good because they can work on things they are familiar with. This makes sense to her. Except she is becoming extremely busy and not able to complete her own work because of the additional tasks she is taking on. She is beginning to feel burned out.
Speaking

Francis is an organizational and leadership advisor with over 25 years of non-profit and start-up experience. He speaks about leadership, organizational development, and higher education reform.
Books

Coming Soon!
The Complete Leader rapidly prepares leaders by immersing them in the 25 competencies required to be a high-performing leader.