Whitney's Surprise Fund Helps, One Donation at a Time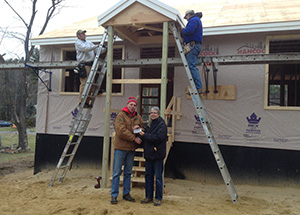 When Whit Mitchell and Bill Cuff met while doing facilitative work with teams at Kodak over 23 years ago, neither knew that the chance encounter would lead to years of friendship and a partnership to fight social injustice and help those in need.
At the time they met—and bonded over a shared sense of humor—Bill was working with a nonprofit that enhanced the lives of people with disabilities. After an introduction, Whit was compelled by the group's mission, and became involved as well.
Fast-forward 15 years, when Bill, some relatives, and friends started a nonprofit called Unlimited Possibilities (UP). "When Whit heard about UP, he called me and wanted to know how he could help. I knew immediately what we could do," said Bill. It would be a surprise financial donation to an individual or family who was having a hard time.
And so the Whitney's Surprise Fund was born. Bill had only one stipulation: "I told him we'd do it under one condition: He had to let me call it Whitney's Surprise," he said.
The Fund has impacted countless lives across the globe. Here are just a handful of the lives Whitney's Surprise has been able to impact:
Provided occupational training for gang members in Boston to become personal trainers
Facilitated a wish through the "Make a Wish Foundation" for a child in Ohio suffering from pediatric cancer
Provided counseling for Congolese girls who had been abused
Supported impoverished women in Tanzania as they worked toward financial independence
Donated a computer and medical tools to a 13-year-old Tanzanian orphan named Modest, who was head of the household for his three siblings—he eventually completed medical school and become a doctor
Helped fund a heart operation for an infant on the Pine Ridge Oglala Sioux reservation in South Dakota
Helped purchase a ramp to make accessible the home of a young mother in Massachusetts who has Freidreich's Ataxia
Donated toward the medial bills of a former special education teacher with a head injury, who later wrote the team an email listing all of the ways she had paid it forward
One of the most memorable projects for Whit was one in which only part of a family had escaped war-torn Africa, but hadn't been able to get all of their children out with them. The Fund presented them with a check that helped them financially and they were able to reunite their family. "Showing up at their door with that check, and seeing the smiles on their faces. That was just exceptional," recalls Whit. Five of the seven children in the family went on to attend college, most of them in fields of human service.
Whit also helped the father of another family from the Congo study for his exam to become a U.S. Citizen, and celebrated with the family when he passed the test and received his citizenship.
Whit also recalled a Veteran in Vermont whose wheelchair had been taken off his front porch by some boys, who played with it and broke it. Whit saw the story in the newspaper, and contacted the reporter to see what they could do to help. Whitney's Surprise bought the man a new wheelchair, and volunteers from UP came together to build the man a ramp—along with the boys who had broken his wheelchair. "Those kids got to meet the man, and hear the story of why he was in a wheelchair. It was a powerful moment," said Whit.
Over the years that Whit has been donating to the fund, he has been greatly impacted by the stories of the people he has been able to help, and by the outcomes. "It's not a lot, but it just gives me great joy to be able to do it," said Whit. Whitney's Surprise reminds Bill of one of his favorite quotes by Sydney Smith, " 'The greatest mistake you can make is to do nothing because you think you can't do enough.' You can always do something," says Bill.
Learn more about Unlimited Possibilities, the work they do, and how you can get involved at updoitnow.org. Unlimited Possibilities is a New Hampshire-based non-profit organization founded in 2010 and is a 501c3 tax-deductible charitable organization.