Lori McNeill
Executive Advisor & Organizational Excellence Coach
Lori McNeill has spent over 20 years optimizing outcomes for organizations through business solutions. In her work as an executive advisor, organizational excellence coach and speaker, she is a partner and strategist, diving deep into organizational needs throughout the company. Lori works with her clients to improve organizational development, employee engagement, change management, job benchmarking, performance evaluation, organizational culture, presentation building, storyline development, and training and development. Her depth of business experience also includes marketing, strategy, sales force effectiveness, and market access.
Read More
"As a strategic thought partner, Lori leverages her extensive industry knowledge and adds new dimensions of thinking, utilizing her practical experience as an executive coach and facilitator. Her ability to build an actionable strategic blueprint is combined with a detailed understanding of the change management associated with building new capabilities."

Michael Williams, Chief Operating Officer at Intarcia Therapeutics
Lori has been an effective change agent in organizations of all sizes, from start ups to Fortune 100 companies to powerhouse marketing group, Ogilvy & Mather. In her most recent role at Pfizer, she worked as Chief of Staff and Director of Global Operations, where she received the prestigious Innovation Award.
She is currently pursuing a Masters in Psychology at Harvard University. She also holds an Organizational Behavior graduate certification from Harvard. She received a B.S. in Communications from Appalachian State University in North Carolina.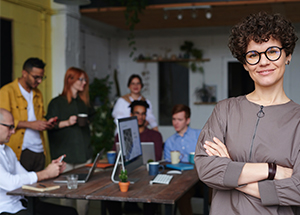 The Impact Of Women In Leadership
March 31, 2021
Posted in:

Articles/Media, Lori McNeill
Lori McNeill, HR.com, March 2021
In recent years, there has been an emphasis on the professional development of females and the need to provide them with opportunities for leadership positions. Numerous conferences have popped up around the globe for female executives. Companies large and small have implemented programs specifically designed for the development of their female staff.
When it comes to the topic of women in leadership, the answers to basic questions are both obvious and enlightening.Read More
Speaking
Lori is an thoughtful and affable speaker who regularly presents on culture, innovation and leadership topics.
Books

The Complete Leader rapidly prepares leaders by immersing them in the 25 competencies required to be a high-performing leader.