Want to Be a Better Leader in 2018?

The Complete Leader Program can get you there.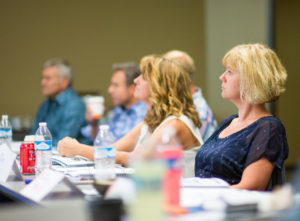 TCL is an EMBA-style leadership development program designed to identify and develop the skills needed to excel in both current and future roles. It has been a catalyst for leadership growth in dozens of organizations—across the U.S. and around the world.
We are launching our second cohort in the Treasure Valley, starting with our first session February 27-28. The 14-month program meets every 8-10 weeks to dive deep into a variety of leadership competencies, bringing in leading executive coaches and experts from across the country to work with the group.
Through a mixture of presentations, one-on-one coaching, book study, and hands-on learning, participants achieve increased self-awareness and build leadership skills.
Space is limited to 20 people. Enroll today!
Cost: $15,000 per participant (payment plans are available)
What participants are saying
"The opportunity to learn leadership styles from individuals in different industries has been great."
Frank Teas, Director of Banking Services, Lake Sunapee Bank,
"It opened my eyes to more accurate assessment of myself. I received insights for better understanding people, why they are the way they are, and how to use them to the best of their ability—all of which made me a better team member. It has been a big advantage for the company."
Superior Farms Cohort Evaluations
"Overall, invaluable—both to me personally, and in my guidance and understanding of our team."
Elizabeth Roberts, HR & Operations, Compass Therapeutics
"It's a comprehensive program covering many relevant areas, providing excellent self discovery and an improved group dynamic. We saw increased self-awareness and improved communication throughout the team."
Cavium Cohort Evaluations
"The combination of presentations and ongoing coaching is helping me apply TCL principles to daily challenges and make the skills permanent."
Paul Beliveau, Sr. Engineering Manager, Fuji Film
"The Complete Leader is a great blend of objective data, personal reflection and group discussion. I highly recommend participating with two or more members of your team to have the chance to develop insights into your own and your team's leadership styles and growth areas. The program has been invaluable to our team."
Errik Anderson, President, Compass Therapeutics
Commitments: Participants will be expected to attend all of the group sessions, to complete mutually agreed upon assignments in a timely manner, and to participate in individual coaching sessions in between group sessions. Participants will also be asked to participate in team action learning activities that are relevant and impactful in their current roles.
Since space is limited, there is a $500 deposit required to reserve a spot in the program.